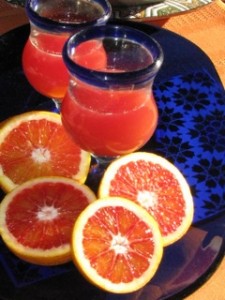 A lovely Blood Orange Mimosa
OR
Would a mousse better satisfy your sweet tooth?
Blood Orange Mousse in Chocolate Cups
Serves 8
Syrup:
1 cup fresh blood orange juice
1 tablespoon lime juice
¼ cup sugar
1 teaspoon finely grated orange peel
Place ingredients in a small saucepan over medium high heat. Reduce by half. Set aside.
Mousse:
1 cup chilled heavy whipping cream
1/2 cup sugar
2 tablespoons Grand Marnier
1 teaspoon finely grated orange peel
8 chocolate cups holding approximately 1/3 cup mousse
Whip cream, adding sugar and Grand Marnier in increments. Fold in orange peel. Pour mousse into shells. Cover and freeze. Drizzle with reserved blood orange syrup before serving.
All you've ever wanted to know about Blood Oranges is posted on http://www.blood-oranges.com