More Chilean adventures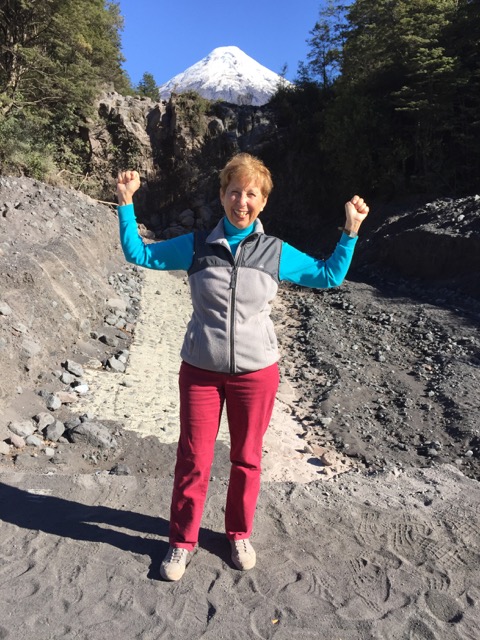 I did it! Behind me, Volcan Osorno
I wasn't quite done with a report of my trip to Chile in March. I hit the ground running soon after my return, yet "Northern Patagonia" and "Atacama Desert" still sound so exotic that I can hardly believe I actually visited. Could this reflect my French background, since I encountered dozens of other French-speaking travellers? Want to practice your French? Head to Chile!
From pink flamingos at rest on one leg in the lagoons of the Atacama Desert to the pine forests of Northern Patagonia, Chile is a land of contrasts. Not knowing much about Patagonia, I flew south to Puerto Montt, the rather uninteresting regional capital, and a popular stop for cruise ships crossing Lago Llanquihue. Thankfully, my Chilean agent had booked a hotel in neighboring Puerta Varas, "city of roses", the delightful capital of the Region de los Lagos and a departure point for the seven lake cruise leading to Bariloche in Argentina.
Majestic Volcan Osorno, a clone of Mount Fuji (though Chileans are quick to remind you "it's the other way round!") towers over the lake, to create a mystical background. I could see it from my room at the quirky Hotel Casa Kalfu (http://www.casakalfu.cl) painted in a blue reminiscent of the walls of the famed Majorelle Gardens in Marrakech), a pseudo-Victorian edifice favored by Chilean and French tourists. Uneven stairs, slanted ceilings, and a fireplace or two all contributed to its charm. Excursions to volcanoes and waterfalls, a two-hour cruise to Peulla at the far end of Todos Santos Lake, mouth-watering Tablao Patagónico loaded with seafood, sausages and cheeses meals at La Gringa restaurant in Puerto Varas, and salmon ceviche purchased from a food truck kept me hopping until came time to take the ferry to the Island of Chiloe.
A spacious car-ferry links Chiloe to the mainland. Castro, the island's capital, lies at the northern end of a two-hour drive (about 160 km) along the Carretera Austral (point "0" on the same HIGHWAY 5 that links the Mexican border to Canada.) Another riotously painted hotel, this time in bubblegum pink, welcomed me. The Unicornio Azul (http://hotelunicornioazul.com) brought to mind a San Francisco "painted lady," with a cozy room, wi-fi, and 4 staff members who lined up to kiss my (right) cheek, a la Chilena, when I left. Nowhere else but Chile! The hotel reminded me of the renowned, still unfinished Winchester House in San Jose, California.
I was on a mission to taste "curanto", an island specialty consisting of a stew packed with fruits de mer, "fruits of the sea," as we say in French. Curanto is usually cooked underground, over hot coals, but Restaurant Octavio across from my hotel, features it on the menu. Among the fruits of the sea: cod, mussels (forgive the repetition, but they were really the size of a medium banana), squid, the sweetest clams I have ever tasted, sausage augmented with the area's famed pink "potatoes" (tubers) and tangerine-size bulbs of elephant garlic. The next night, I returned for crêpe de jaiba, crab crêpe, and more seafood in Tabla Bordemar. The waiter watched me, incredulous at the glutenous amounts of food I was attempting to pack into my small frame (all in the line of duty, of course.) My new friend called out the chef to observe the ravenous foreigner. This led to an hour of talking about global culinary trends while Frank Sinatra hummed in the background. What's not to love here?
Sampling curanto led me to the waterfront fish market the next morning. Here, varieties of dried fish, mussels, and seaweed reign supreme. It has to be among the most scenic markets in Chile. That and Chiloe's unique waterfront palafitas, stilt houses, were enough to entertain a return visit.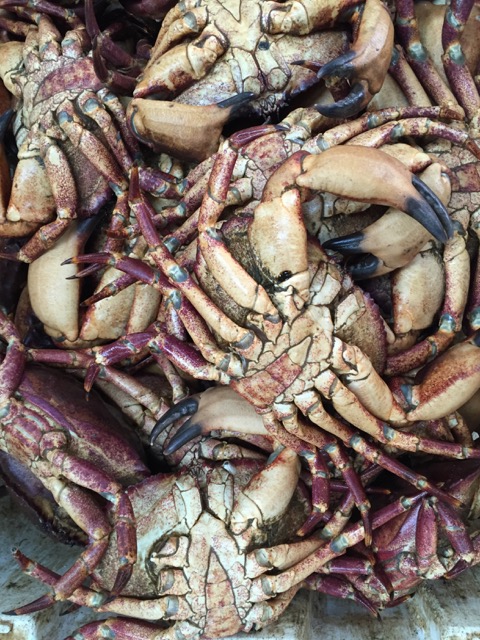 I would be remiss, however, in ignoring the smaller island of Lemuy, a 10mn ferry ride from Chiloe across pristine turquoise waters crowded with fish farms. Chiloe and Lemuy are famous for their wooden churches, structures dating back to the late 1800s and recognized as a Unesco World Heritage. Interesting though the churches were, it is LUNCH that sticks in my mind (and to my ribs.) Imagine a 30 minute ride along narrow country roads lined with blooming fuchsia (an variety called fuchsia magellanica and its sweet, moist buds called "chilco"), and taking a sharp turn onto an unpaved stretch leading to . . . the jungle. This was Parque Yayanes (www.parqueyayanes.cl) a hideaway with cabins to rent, and an acclaimed restaurant overlooking a forest of greenery. Our hosts: the owner, Jaime Perez, a tall, distinguished, elderly gentleman with flowing white hair and beard who originally hailed from Macedonia (!!) and his Romanian cook Perla Kohan (!!) They had garnered a mention in the New York Times several years before. "We built our cabins and no one came," explained Jaime. "So one day, we looked out our window, and we realized this was our real treasure: Our view. And the restaurant took shape."
To be continued (and then, enough already). . .