Our lives have taken on a different turn since I wrote this blog in late June. My mother left us on July 11, 2017, two days before her 94th birthday, July 13th, 2017.
Her last two months were spent at home, with us. It was a privilege to be able to take care of her, and to be with her until the end. This photo was taken on her 93rd birthday. To you, maman. To us. I miss you.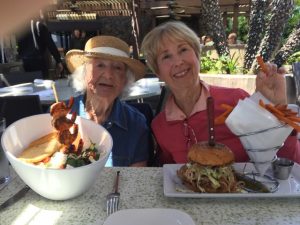 The Kasbah Chronicles
June and July 2017
CONTENTS
A FRENCH ESCAPADE (Part 2)
Vienna and Nice
(Part 3: Unforgettable Toulouse and more Paris)
Musings:
Vienna
Luxuriating in chocolate decadence at Demmel's,
HOP from Vienna to Nice
Mes vols HOP!
Nice
Lunch in Ventimiglia
. . . and much more
News you can use
My favorite salsa for summer
Bookings for presentations
News of Morocco and beyond
Les News en français
Update:
Le Riad au Bord de l'Oued
(Mint Tea and Minarets: a banquet of Moroccan memories)
Dateline: Vista, Vienna and Nice
Musings:
A little French verse, "Le bonheur est dans le pré, cours-y vite, cours-y vite, makes me appreciate my own backyard, but it doesn't stop me from sharing my far away French, Viennese, Italian, and Toulouse adventures. Here is part 2: RETURN FOR PART 3 NEXT MONTH!
A visit to Vienna was inspired by three books partially set in that fabled city: The People of the Book (extraordinary), The Hare with Amber Eyes (superb), and Monuments Men (inspiring to say the least). I had forgotten how "compact" Europe is! A little over an hour's flight took me from Paris to Vienna, and I was still in the same time zone!
Since I was staying a little out of the city center, I had to take the train, then the bus to reach the pulsating heart of Vienna, the pedestrian only Stephanplatz, site of St Stephan's Cathedral and its multicolored tiles (www.stephansdom.at.) All well and good and beautiful, but absolutely swamped with tourists.
To escape the crush, I ducked into Restaurant Haas and Hass (http://www.haas-haas.at.) behind the cathedral and sought refuge under a colorful umbrella. The "traditional" noodle soup and smoked fish platter the waitress recommended were rather tasteless and overpriced, but the intimate courtyard was an ideal spot for lunch. That same evening, my hosts, my cousin Helene and her husband Dr. Rainer Claus, an indie publisher himself (https://sites.google/site/editions sonnberg,) longtime Vienna residents, knew just where to take me for an authentic Austrian tafelsptiz. This cross between a French pot-au-feu and a Chinese hot pot is the specialty of Plachutta on the Wollzeille (http://www.plachutta.at.) We spent a balmy evening on the terrace, retrieving various cuts of beef and vegetables from the delicate beef broth, and happily consuming Viennese sausage and sautéed cabbage. Love that Viennese tradition!
Again to evade the hordes on St Stephan Square the next day, I turned my back on the nearby Lipizzaner horse stables, the Sisi museum, and stores spewing authentic Austrian souvenirs made in China. I lusted after more sausages. I followed the wide pedestrian mall past the Vienna Opera house to the Naschmarkt, a market in business since the 16th century. (http://www.naschmarkt-vienna.com)
Up and down along the Naschmarkt's bustling aisles lined with dozens of stands offering Turkish pastries, Turkish preserves and otherwise exotic dumplings, spices and fruits. But where was my sausage? I finally stumbled upon a REAL Austrian sausage maker.
Casting aside my half-nibbled candied hibiscus blossom, I binged on an enormous sandwich oozing mustard. Well, half of a sandwich anyway. Nothing like fusion sampling! I must admit that the sausages in Milwaukee (WI), our quintessential US German city, were tastier than the one in Vienna. No matter. The experience was worth it.
I needed to walk off massive amounts of calories, and retraced my steps towards St Stephan Square and a plaza lined with tour buses. A barker lured me with a "Wanna go to the Schønnbrun Palace?" Why not? A chat with him revealed we were both from Casablanca. That was good for a 5 euro discount! The tour highlighted the royal bedchambers with their gilt ceilings, and hand-painted wallpaper but the poor emperors' totally public way of life was in no way appealing. As I stepped outside the palace, a lone mime in Mozart costume was singing Beatles tunes. I captured my selfie with "Mozart."
I decided to forego a slice of the "original" sacher torte at the Hotel Sacher, simply because a line of hungry tourists snaked out the door. My heart and my stomach were set on pastries, so upon returning to Vienna's navel, the platz, I sought out Demmel's, one of the world's best-known pâtisseries.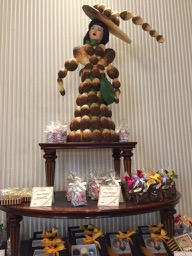 The establishment seemed more gentile, the sort of place your grandmother would take for tea. The glassed-in pastry kitchen is a brilliant idea, allowing patrons to watch pâtissiers at work, on the extraordinary pastries and confections on display around the store. Their artistry made my mouth water, and I settled into one of the intimate salons with a chocolate soufflé smothered under a calving cliff of whipped cream. Bliss!
But the Côte d'Azur beckoned, with a flight on HOP, the new low-cost French airline operated by Air France (www.hop.com). The attendants actually offer you the day's newspapers and free drinks! Incroyable!
 I mentioned in my previous edition of the Kasbah Chronicles that I took this trip to reconnect with childhood friends from Morocco. In Nice, Joelle, my "best" pal in école maternelle, was waiting for me at the airport. Though we hadn't seen each other in 40 years, we resumed our conversation as though we had just parted ways the day before.
Joelle is also a terrific cook, and treated me to a platter of fromages and fine charcuterie (which she purchases in nearby Italy, funnily enough), canard confit and foie gras. How can I describe the ethereal flavors of her Consommé de Foie Gras, made of the most delicate chicken broth and the lightly poached foie gras peeking through. AMBROSIAL!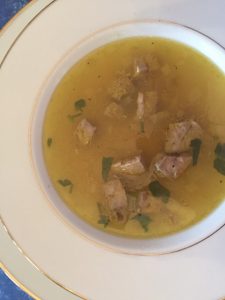 When in Nice don't miss the beautiful Chagall Museum. The airy showcase holds some of the artist's most colorful works. Or a ride along the Côte d'Azur (aka the French Riviera). The famed stretch of coastline stretches from Toulon to the east, to the Italian border to the west. Nice, its largest city, lies barely 29 kms from the Italian border. Indeed, many Niçois, including Joelle, frequent the weekly market in nearby Ventimiglia, Italy. Prices are lower, even though in euros.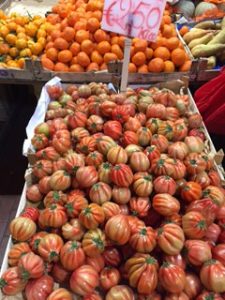 Did I mention my lunch? The dish of home-made tagliatelle with vongole (clams) at Trattoria dei Pani, Via Roma, 16, was so subtle and light, unlike any I have eaten in the States. Was it the Italian air? I barely refrained from licking my plate.
No passport! No border! An empty building marks the spot. It is uncanny how you know you are in a different country as you cross the non-existent line. Apart from signs and sounds, a sort of Italian laissez faire in the air contrasts with the sterile high-rises of Monaco, or, as I dubbed it, Manhattan on the Med. This is the place where billionaires like to hang out? They can have it! Laguna Beach, Santa Barbara and La Jolla have it all over Monaco's narrow, quasi-impassable winding streets and concrete high rises.
Joelle filled my belly with champagne, more foie gras, and a memorable tartiflette (scalloped potatoes and cream dish buried under a blanket of melted Reblochon cheese.) I practically waddled back to the airport, to catch my flight to Toulouse. And the "Ville Rose" (Pink City), a revelation to me, merits a Chronicle unto itself. Come back for the next installment!
Recipe
From my book, Couscous: Fresh and Flavorful (Chronicle Books, 1999) a favorite summer recipe:
Couscous Fritters with Fresh Corn and Tomato Salsa
Serves 4
2 large, ripe tomatoes, peeled, seeded, finely diced, and drained
2 ears sweet corn, shucked and cooked (about 1 1/2 cups kernels)
15 sprigs fresh cilantro, finely chopped (about 1 1/2 tablespoons)
2 tablespoons finely diced onion
1 teaspoon fresh lime juice
3/4 teaspoon ground cumin
1 tablespoon ketchup
3/4 teaspoon salt
2/3 cup broth
1 teaspoon chili powder
1 tablespoon butter
1/2 cup couscous
1 egg, lightly beaten
Vegetable oil for frying
Fresh cilantro leaves for garnish
In a medium bowl, combine the tomatoes, corn, half of the cilantro, the onion, lime juice, 1/4 teaspoon of the cumin, the ketchup, and salt. Set aside.
Prepare the fritters: In a medium saucepan over medium-high heat, combine the broth, chili powder, butter, and remaining salt. Bring to a boil. Add the couscous in a stream. Stir once. Cover and remove from the heat. Set aside until the couscous is tender, 12 to 15 minutes. Transfer to a medium bowl and combine with the egg.
Preheat the oven to 200 degrees F. In a medium skillet over medium-high heat, pour vegetable oil to a depth of 1/2 inch. Heat until a pinch of couscous sizzles instantly. Place the couscous mixture, in 1/3 cup increments, into the skillet. With a spatula, flatten into croquettes 3 to 3 1/2 inches in diameter. Fry until golden brown, 6 to 8 minutes on each side. Transfer to a plate lined with paper towels to drain. Keep warm in the oven. Top each fritter with some salsa and serve!
Classes and presentations:
I am available for talks and presentations on edible flowers or Moroccan cuisine and culture
Books for sale: Need a gift? I'll sign and send one of my books!
News of Morocco:
The modern Moroccan art scene is alive and well. Thanks to His Majesty Mohammed VI, Rabat now has its very own museum of modern art, a first in the Arab world. Learn more this is a very informative site. Artist Mahi Binebine and http://www.kawnculture.com
This was all over the news. I have travelled this road to Marrakech since childhood and look at what they unearthed.
https://www.theguardian.com/science/2017/jun/07/oldest-homo-sapiens-bones-ever-found-shake-foundations-of-the-human-story
You have to love this man: The Book Rescuer
http://www.aljazeera.com/indepth/features/2017/05/bogota-bibliophile-trash-collector-rescues-books-170522084707682.html
Links of interests:
Cookbook lovers, head to:
. . a selection of cookbooks on Classics Cookbooks.
This collaborative exhibition draws from the Museum of Contemporary Art San Diego's (MCASD) permanent collection, featuring works by beloved California artists.http://artcenter.org/event/california-connections-selections-museum-contemporary-art-san-diego-2/
Food find, in Rancho San Diego (about 50 mns from Vista) but worth the drive:
I have already told you about Sahara (2990 Jamacha Road, El Cajon), a family-run, Middle Eastern restaurant in Rancho San Diego. Fresh and home-made are key words here. We rarely drive far afield from the North County, but we regularly make our way to Rancho San Diego to fulfill our craving for their hummus and pickles, mouth-watering chicken tikka sandwiches, flatbreads baked in a stone oven, and excellent kibbe. Other Mid Eastern business occupy the strip mall including Pistachio Delights and Pastries (2999 Jamacha Road, Suite 102, El Cajon) where you will find a plethora of Mid Eastern pastries from baklava to knafa, freshly baked on site, and sip Turkish coffe.
North San Diego County readers:
Are you aware of the online newsletter, The Vista Press? The informative newsletter covers Vista, Oceanside, Carlsbad, and more. Send in your local news! Yours truly will have a periodic byline.
Kitty is selling: I will send you pictures and prices via email:
Moroccan artifacts:
Vintage Moroccan dagger made of carved bone inlaid with colored stones. Black woven silk rope.
Authentic Moroccan tagine pots, small and medium size (no shipping for these)
Copper items:
Vintage lamp base bought in Casablanca (red copper) about 24 inches tall, shaped like a vase.
Etched box with domed lid bought in Casablanca.
Copper (red copper) cooking pot with handle bought in Casablanca
and much more.
Until next month,