The Kasbah Chronicles
Now in it 10 TENTH YEAR!
JUNE/JULY 2019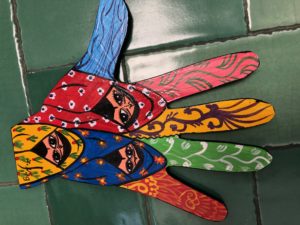 To cast away the evil eye!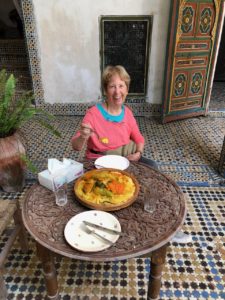 Happiness is a BIG DISH OF COUCOUS AT DAR ZITOUN!
 Special Delivery at Dar Zitoun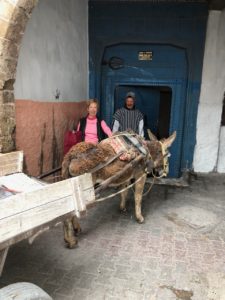 MUSINGS
RECIPE
Salmorejo
Presentations:
News of Morocco and beyond
Links of interest In English and en français:
Next time: Ouarzazate, Essaouira, and Catalonia
MUSINGS:
Revisiting Casablanca, my hometown
Here we are mid-summer and I am combining the June and July Chronicles before August befalls us. I had to hit the ground running upon my return from Morocco in May..or rather, hit the ground sprinting. The sun finally chased the June Gloom, which I equate with our winter. Avoid June in Southern California unless you like fog and drizzle. So, to escape the grey of the coast, we took a little side trip to Julian (CA) our mountain retreat, only a couple of hours away. We spent two nights in a lovely Air B and B nestled under towering California oaks, complete with hammock and two gorgeous emus (yes, emus) as welcoming committee. That and a hot sun did much to set things right. Julian turned out to be a wonderful get away.
But, back to my hometown. The largest port in Africa. A world-renowned destination for Moorish Art deco architecture. Considered the "Paris" of Africa by our sub-Saharan neighbors. Mythical war refuge of Humphrey Bogart and Ingrid Bergman. Dar Beida ("White House" in Arabic) Home of "beidaouis" or as Casa natives now call themselves: casaouis to denote the city's unique co-existence of two cultures: North African and European. Great changes have reshaped the city. There is no doubt that Casa is now one of the world's major commercial cities.
I grew up here, on Rond Point St Exupery, across from the parc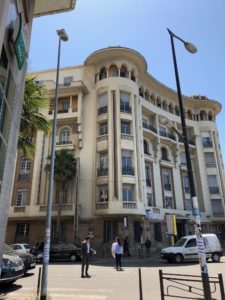 But downtown buildings still need a good coat of white paint. Boulevard Mohammed V, which used to carry an incessant flow of honking cars and buses, has quieted down to such a degree that I found myself alone on the street at 10AM one morning: the reason? A gorgeous new tram that crisscrosses the city from one end to the other. Result? Boulevards and once busy side streets have been blocked or rerouted to make way for miles of tram rails. Impressive but a little eerie. I dropped by the Marché Central (covered French market), where I once shopped with my grandmother: Closed stalls greeted me, and small restaurants invaded the once thriving marketplace. Seafood vendors held their ground, hawking oysters and mussels from the Oualidia lagoon, and fish from Atlantic waters. But customers? Few and far between. Surprise! Surprise! Young men were making ouarka (a filo like dough) What was once practically the exclusive domain of professional cooks known as dadas, has now been adopted by a new ], MALE, generation of experts.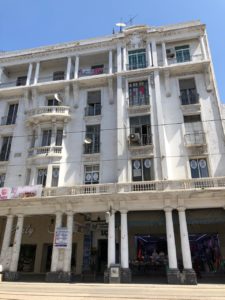 My maternal great grandmother lived here!
I walked up the Avenue Hassan II, a main artery, which fronts the building where I grew up. Old colonial style buildings have made way for a massive new theatre still under construction after several years. The thousands of pigeons that strutted their stuff around the old fountain, have had to cross the street to a new fountain and location. I took a detour behind the Hyatt Regency Hotel on Place des Nations Unies (next to the Old Medina).. and there it was, in the south parking lot of the Hyatt, almost unchanged: St John the Evangelist Anglican Church, one of the city's oldest and most historic opened at the run of the 20th century. www.stjohnscasablanca.org.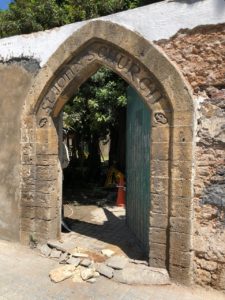 in full restoration mode. . .
Per the Lonely Planet Morocco guide: "The oldest church building still in use in Casablanca, this Anglican house of worship was built in 1906 on land owned by the British Crown." This is also the church where my father was a warden for a dozen years, and where my godmother is buried. General Patton worshipped there during WWII, and donated the pulpit. Tall walls still enclose the tiny churchyard. The sanctuary itself resembles an English country church, an anachronism in the midst of this Moslem city. Local authorities have always protected its existence however. St John's too, is undergoing a major expansion, mainly to accommodate newly arrived Sub-Saharan parishioners. You may want to take the time to visit it if you are in the neighborhood.
I describe some of its history in the introduction of A Biblical Feast: Ancient Mediterranean Flavors for Today's Table available on Amazon.com

I happened to revisit Casa at the very beginning of Ramadan, and I was honored to be hosted by my friends the Rahoules for the first evening of the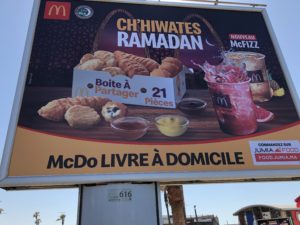 the meal to break the fast at sundown. We broke the fast with steaming bowls of saffron-infused harira (recipe in all my cookbooks!) bean soup, a handful of dates, and hard-boiled eggs, as tradition warrants.
Recipe:
Salmorejo, a luscious summer soup (to use up your surplus of home-grown tomatoes).. lucky you!
https://cuisine.journaldesfemmes.fr/recette/1016038-salmorejo-soupe-froide-andalouse
my version, from Edible Flowers: a Kitchen Companion.
Just because:
Remembering Laurie Colwin, One of my FAVORITE FOOD WRITERS:
https://food52.com/blog/24264-laurie-colwin-in-memoriam
Presentations:
www.miracosta.edu/instruction/programsforseniors_life. JOIN US!!!
Why attend Adult Space Camp in Huntsville, AL? Space junkies Kitty Morse and Pat McArdle played at being astronauts to mark the 50th anniversary of the moon landing.
Friday, July 19, 2019. 2:30PM. Come early! Seats fill up fast.
LIFE, Mira Costa College, Oceanside, CA. Learning Is For Everyone (LIFE)
www.miracosta.edu/instruction/programsforseniors_life.html
Kitty Morse: Revisiting Morocco's Sahara and the mythical Kasbah Trail.
Friday, AUG 2, 2019. 2PM
Culinary Historians of San Diego:
Kitty revisits Morocco's Kasbah Trail
Saturday, September 21, 2019. 10AM
Central Library, San Diego, CA
https://www.culinaryhistoriansofsandiego.com/
UPCOMING EVENTS at the Escondido Center for the Arts: FRANCOPHONE ou FRANCOPHILE
DEGAS is coming to the Center (artcenter.org) where I am a docent
July 20 – September 15, 2019
Works on paper by French artist, Edgar Degas. Exhibition also includes work from Mary Cassatt, Paul Cézanne, Edouard Manet, Camille Pissarro, and Henri de Toulouse-Lautrec.
If francophiles (4 at least) would like a personally conducted tour in French, contact Mikelanne Ferran at mferran@escondido.org
TAKE NOTE:
Did you know that Degas lived in New Orleans from 1872 to 1873?
Degas House in New Orleans Enshrined by French Culture Minister
News of Morocco and beyond:
Language differences:
https://theculturetrip.com/africa/morocco/articles/differences-between-moroccan-arabic-and-standard-arabic/?fbclid=IwAR3w2tH5AMMqmHfkkSIJkQhjrjMF2LAaqBO9H-jbrl8q_n6UQnXh7GRcR5c
Leave me a message!