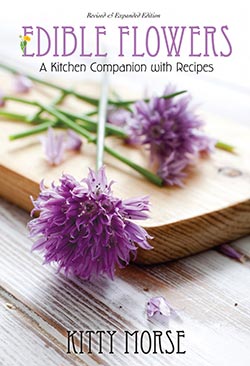 You can order a SIGNED copy from me directly (see below)
OR UPDATE MARCH 2018:
Edible Flowers: A Kitchen Companion is now available as an eBook for ALL platforms:
FIRST REVIEW
San Diego Union Tribune, Dec. 16, 2015:
View the article:
Lavender Shortbread Cookies
Shortbread blossoms with lavender
Publication date: December 2015
Details:
Edible Flowers: USD15.95
Shipping media mail in the US ONLY: USD3.00
California tax if applicable:  USD1.30
I will ship signed copies in the US until December 18th, 2015, so you can have them in time for the holidays. I will happily bundle multiple copies. You can pay me via Paypal or by check. I can take credit cards over the phone (I am learning to use my new SQUARE on my iPhone.) For International shipping, please contact me.
Chefs Press, San Diego, CA
Completely revised and updated
A number of new recipes, with color food and flower photography throughout. A lovely gift book!
Praise for the FIRST EDITION of Edible Flowers:
Cravings. http://www.cravingsmagazine.com.au.
 Whether sweet of peppery, edible flowers always make a dish more refreshing and beautiful. Now with this pocket-sized guide, you can follow the lead of professional chefs who have reinvoked Victorian tradition by incorporating edible flowers into all types of dishes. . . Online purchase information.
"Informative 80 page hardcover includes history, lore, and inspiring photographs. . . easy to follow recipes include Begonia Strawberry Pie and Zucchini Blossom Frittata. . ." Lucy Wing, food editor, Country Living magazine, New York, April 1996