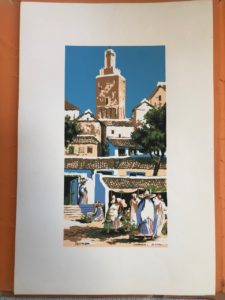 Lovely vintage lithograph of Chauen (Chefchauen) mosque in Northern Morocco
unframed
OCTOBER 2020
I will update this page as I add items. Pls check back regularly.

For more information please email me at [email protected]. Pls contact me for shipping charges.
COMING SOON! MORE antiques, many vintage from my family's estate.
Are you a fan of truffles? EN FRANCAIS: Learn all there is to know about Perigord, truffe country, en français. NEW.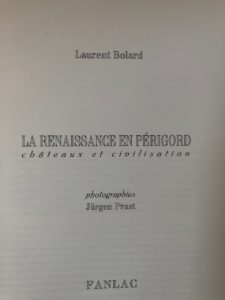 NEW. USD 28.00 plus shipping
ISBN  9-782865 771868
LA RENAISSANCE EN PERIGORD – CHATEAUX ET CIVILISATION Par Laurent Bolach  Editions Fanlac 1996 –
Couverture cartonnée toilée avec jaquette illustrée/Hardcover, with illustrated book jacket.
Grand Format /Large format , 25 x 29 cm, 1307 Grammes
Shipped via media mail in the US.
From Morocco:
-women's kaftans,
-small and mini tagine dishes: single servings, great for salt, pepper, butter, condiments…
-textiles: small rugs
Vintage fireplace bellows from Morocco purchased in Casablanca. USD80.00
Hand pump. Works very well. For indoor or outdoor fireplace OR backyard barbecues!Hand-hammered Pink copper face in natural patina,  and up the front handle (though I haven't polished it very well).
28 inches tip to base,  the usual size in Morocco. 11 inches wide at widest point.
Metal tip is a little rusty commensurate with use and age. So are decorative leather and brass nails at the base. See photo of the side: leather is a  little worn, but it doesn't affect the bellows. Hand hammered on front, and painted wood on the back. Seven copper "nails" on back. Leather "handle" on back.
VINTAGE STRAW BASKETS: Very sturdy, and not used much. Used but in excellent condition if a bit faded, commensurate with age: I love these baskets! I have too many! USD35.00 each.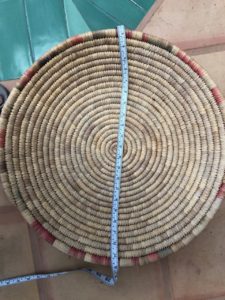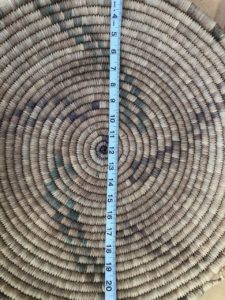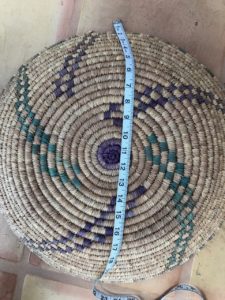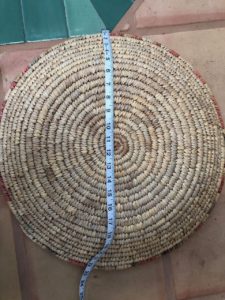 This fine, triangular handcrafted inlaid box is typical of the work of artisans in Essaouira, 120 miles south of Casablanca, on Morocco's Atlantic coast. The hinged box is carved from the root of the Thuya tree (a sort of ironwood) endemic to southern Morocco. Thuya is very hard and has a scent similar to cedar wood. Years of drought and deforestation have made it a protected species. The unusual triangular shape and the excellent craftsmanship caught my eye when I purchased it in Essaouira over 20 years ago. I was born in Morocco, and this is one of the most elegant and original boxes I have come across during my travels. USD 75..00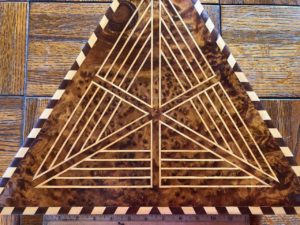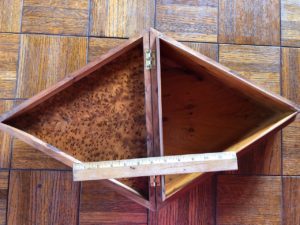 The hinged box measures 14-inches on each side, and is 4 ¾-inches deep. It has never been used for anything but display, and bears a few shelf marks on the base. It is in excellent condition, and still emits its unique thuya wood fragrance, even after 20 years.  It has never been used for anything but display, and bears a few shelf marks on the base. It still emits its unique thuya wood fragrance (keeps away moths too) The geometric, star-like inlays on the lid and along the edges are made of lemon wood. The gorgeous pattern of the burled root is visible on the inside of the lid. These boxes are usually finished with lemon oil to obtain a high luster. This would make a lovely jewelry box, or a beautiful gift. We are downscaling, and our box needs a new
Ornate brass and copper mirrors from Casablanca
I like the patina so have not polished it regularly.
Diameter: 17 inches
Copper trays and mirrors
Copper cauldrons
Mini tagines
Kaftans
Old books on Morocco
Brass lamps
ceramic plates..
and much more…Please contact me at [email protected] for details.
Charming Vintage Lithographs: Moroccan Scenes and tribal costumes.USD70 apiece,  by the same Moroccan printer who produced my first book, Come with me to the Kasbah.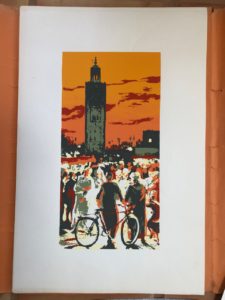 Kutubia Mosque, Marrakech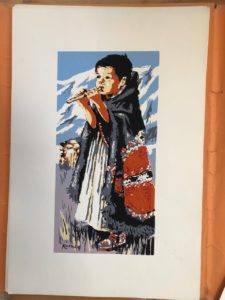 Berber child, High Atlas Mountains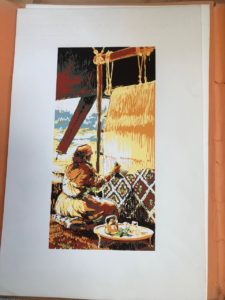 Weaver, High Atlas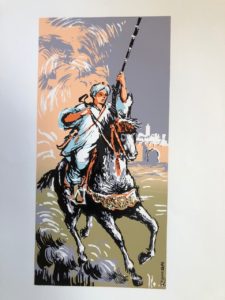 Fantasia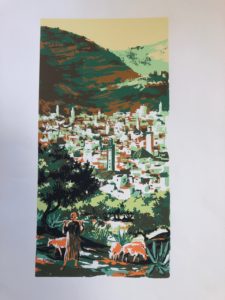 Fez