Musings:
Author Celebration makes for strange bedfellows:
I was honored to be included in the 50th celebration for local authors at the Central Library recently, but I had to chuckle at the juxtaposition of titles. Nothing against the subjects, however!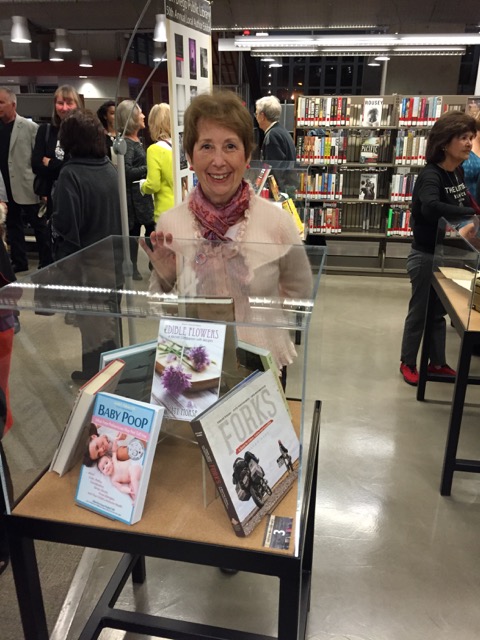 Some of you have attended a demonstration featuring recipes from my latest book, Edible Flowers: A Kitchen Companion. I promised to give out the address where you can purchase fresh edible flowers as well as candied flowers (if you don't make them following my recipe, that is!) by mail order. The flowers are grown locally, and are distributed through www.gourmetsweetbotanicals.com.
Thank you to those who suggested stores, markets, farms, catalogs, and any other venue that might be interested in carrying Edible Flowers. Catherine in Marina del Rey, thanks to you, the book is now at the Marina del Rey Garden Center. I will send your free book to you soon! In the meantime, I am following up on other suggestions, and will keep each one of you updated. All I need is a name or a website, better still, a human contact of independent bookstores, large nurseries with gift stores, botanical gardens, and garden or flower catalogs that might be interested in featuring the title.
Looking forward to:
April 16, 2016:
Come to a chat on Edible Flowers which I will co-host along with Nan Sterman, host of KPBS's A Growing Passion, for the Culinary Historians of San Diego at the Central Library. If food or food history interest you, then this group dedicated to feeding body and mind, is for you. Open to the public. Check out
CulinaryHistoriansOfSanDiego.com
May 14, 2016: Benefit Cooking Class. By invitation.
May 21, 2016:
San Diego Herb Society. Members only.
More events in June and July.
What is Pecha Kucha?
"It is not a club – just a night for creativity and not for profit. The original organizers – 2 architects in Japan – designed it so that they could be held in "disused aircraft hangs, churches, supermarkets, schools, factories, warehouses, historic buildings restaurants, clubs, cinemas, theaters, etc" – anywhere where there can be a social component with a beer or wine break. Each Pecha Kucha Kucha organizer agrees to certain principles, signs an agreement, and given a license free of charge."
For more information on the Feb. 27th meeting in Del Mar, CA, write [email protected]
More later!
If you do not yet subscribe to my monthly eNewsletter, The Kasbah Chronicles, a portion of which is reproduced on my website, just send me an email, and I will out you on the list: