The Kasbah Chronicles
COUSCOUS, TAGINES AND ART
My wish for you for 2018:
A year filled with crimson sunrises, such as this glorious sunrise in Vista, captured from our rooftop terrace.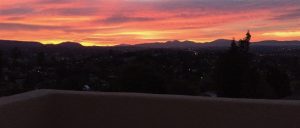 To art lovers and couscous aficionados:
Thank you so much for remaining on the The Kasbah Chronicles email list. It never occurred to me, when I began to write it in December 2007, that so many of you would remain faithful readers 10 years on. Merci, and Thank you all.
I LOVE GETTING YOUR FEEDBACK!
Contents:
Niki de St Phalle exhibit in Escondido (CA)
Presentation to the Culinary Historians of San Diego
As I mentioned in previous Chronicles, I am now a docent at the Escondido Center for the Arts (http://artcenter.org) which is proud to present an exhibit featuring 50 works by internationally renowned Franco-American artist and sculptor Niki de St Phalle (http://nikidesaintphalle.org) Some of you may have noticed one of her "nanas" jutting out of the fountain adjoining the Pompidou Center in Paris. The Pompidou has nothing on Escondido however! See how fortunate are we:
(https://timesofsandiego.com/arts/ Serpent Tree) etc. . . by Niki de Saint Phalle (http://www.escondido.org/queen-califias-magical-circle.aspx)
Niki lived in La Jolla, CA (la "Riviera" américaine) during the latter part of her life and left an kaleidoscopic legacy of private and public works to the county of San Diego. Escondido is fortunate to shelter the only public "garden" she created in the United States: Queen Califia's Magical Circle (behind Kit Carson Park in Escondido, CA, open special hours only) now a destination for art lovers from around the world.
(http://Niki Charitable Art Foundation)
The show lasts from January 12 to March 4, 2018. A Public Opening Reception will take place on Friday, January 12, 2018 from 6:00-7:30 PM. Fee: $10 non-members includes light bites and a no-host bar.
(http://artcenter.org/event/opening-niki-de-saint-phalle-mythical-california)
Visite en français: Pourquoi pas?
Amis et amies francophones, professeurs de francais, etudiants et francophiles, je serai ravie de vous faire faire une visite guidee DE GROUPE en langue française.
Teachers and students of French, French conversation classes, or private French conversation groups, why not view the exhibit with a French-speaking guide? I would be delighted to oblige. GROUPS ONLY. Reservation required. Contact:
Kirsten Barrientes
Arts Education Program Supervisor
California Center for the Arts, Escondido
[email protected]
Tel: (760) 839-4176
MOROCCO ON THE MENU
JOIN ME Saturday, January 20, 2018 at 10:30AM
and the Culinary Historians of San Diego
(https://www.culinaryhistoriansofsandiego.com/public-meetings.html)
for Couscous and Tagines: a History,
Neil Morgan Auditorium of San Diego's
Central Library (accessible by trolley)
330 Park Boulevard, SD
Free and open to the public
Couscous happens to be my FAVORITE comfort food.
which I covered in my book,
Couscous: Fresh and Flavorful (Chronicle Books)
I hope to see you at one of the events
The weather is topsy-turvy and so is the world.
Let's hope it'll turn back upright in 2018.
PS: Overheard during our daily walk at Oceanside (CA) Harbor
"Every year, I stress about it and I don't know why. . . "
My advice:
Don't stress But if you must
at least KNOW THE REASON WHY!!
I am still picking the most luscious tomatoes of the year.
My poor plants do not know anymore what season it is.
December 30th crop
Bismillah, Bon Appétit,
and
Bonne Année!
Kitty