My secret garden at Dar Zitoun, our riad in Azemmour, 90 km south of Casablanca
CONTENTS:
Join me in Morocco. . .
ADVENTURES BY THE BOOK MOROCCO TOUR IS FILLING UP!
DEADLINE FOR EARLY BIRD SIGN-UP is DECEMBER 2, 2018
http://adventuresbythebook.com/moroccoadventure/
@novelnetwork bookchat page on Facebook
Sunday, Nov, 18, 4PM Pacific
Happiness is being close to home (for now)
Día de los Muertos in Escondido (CA)
In Santa Barbara: Art opening at the Botanic Garden
Solar Cookers in Danang, Vietnam
Overheard
News from Morocco and beyond
Meanwhile, back at Versailles
Join Kitty for a LIVE FACEBOOK CHAT
on Sunday, November 18, 2018
(see below)
'Tis almost the season!
EDIBLE FLOWERS: A Kitchen Companion
Free shipping in the US for signed copies until December 5, 2018
Musings:
Thank goodness the elections are over. I thought I would be traveling at this time, but stayed home instead. Every day, when my husband and I take a walk along the Pacific Ocean, I remind myself how lucky I am to live here. This inspirational passage in Ralph Marston's daily newsletter hit home:
". . . The richness of your life does not live in some distant time or faraway place. It is here, now, ready to be experienced and expressed. . ."
OR, as NANCY (as I call it) , the very annoying, GARMIN female voice likes to repeat while I am driving: RECALIBRATING..
So I recalibrated. . .For me, that means putting the finishing touches on Le Riad au Bord de L'Oued, the French version of Mint Tea and Minarets. As it turns out, I am traveling without leaving home, communicating via Facetime with a childhood friend and retired professor in Nice, who is helping me polish the text. It is SO MUCH fun to dip into the French-speaking side of my brain to rediscover the appropriate wording. The next challenge, of course, is getting it published.
Another good reason to stay close to home was to celebrate the 22nd annual Día de los Muertos at California Center for the Arts, Escondido, Nov. 1, from 6-9PM (artcenter.org). The festivities kicked off with a procession around Grape Day Park by Public Address artist Luis Ituarte. Celebrants in costume escorted the cart filled with flowers specially grown in Baja California for the occasion. The museum provided the yellow marigolds called cempasuchitl or flower of the dead, to anyone who decorated the square meter of ground that serves as a personal "altar."
My two friends and I brought a few mementos of our own to celebrate our mothers. Some families offered a loaf of "pan de muerto" to their departed. Food trucks! Mariachis! Sugar skulls for kids to decorate! This is a family friendly event to suit all age groups. Jot this on your calendar for November 1, 2019. It's free!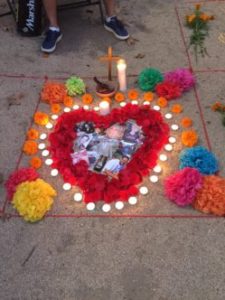 One of the "altars" at Día de los Muertos
Upcoming art show opening in Santa Barbara:
If you live in or near Santa Barbara (CA), my dear friend, Lenore Tolegian Hughes has a new exhibit opening at the Santa Barbara Botanical Gardens on December 6, 2-4pm. She illustrates the power of love in Ancient Greek mythology in an exhibition of visual art based on the love of Demeter, the goddess of agriculture and harvest, for her daughter, Persephone. Her fascination with mythology inspires this dynamic exhibit of watercolors and collages. https://www.sbbg.org/classes-events
Overheard on the campus of Mira Costa College:
". . . It should have never happened, but if it did. . . I could handle it!"
(I wonder what that was about?!
And during our daily walk along the Pacific:
". . . who wants to be eight months pregnant and go to Disneyland?
'Tis almost the season: Need a gift?
I will sign and ship copies of EDIBLE FLOWERS anywhere in the United States. Send me an email ([email protected])
You can pay by Paypal (checks OK too!)
Free shipping until December 5, 2018.
$17 includes book and tax.
. . . speaking of gifts:
Have you visited http://sallybernstein.com ? Sally carries all sorts of delicious edibles, and much more. Check out her website.
French speakers rejoice!
https://france-amerique.com/fr/louisiana-joins-la-francophonie/
C'est officiel ! L'Etat américain rejoint l'Organisation Internationale de la Francophonie (OIF) en tant que membre observateur. Sa candidature a été acceptée ce jeudi par les Etats membres de l'organisation réunis en sommet à Erevan en Arménie. Lire la suite.
It's official! The American state has joined the International Organization of La Francophonie (IOF) as an observer member. Its application was accepted this Thursday by the organization's member states at a summit in Erevan, Armenia. Read more.
Versailles restored: Thank you, America!
https://france-amerique.com/fr/versailles-american-splendor
News of Morocco and beyond:
Acrobats, story tellers, and musicians are nightly attractions on the famed Place Djemaa el Fna, Square of the Dead, in Marrakech (which we visit on the Adventures by the Book tour in April 2019), but this acrobat has gone far beyond walking between two tall buildings in Santiago, Chile. telquel.ma/videos/un-funambule-marocain:
High wire artist from Morocco performs in Santiago (CHILE):
Mustafa « Danger », funambule de profession, a réalisé son premier exploit en Amérique latine.
Solar Cooking in Vietnam

Solar Serve News No.56
https://www.facebook.com/Solar-Serve-Vietnam-
I visited this forward-thinking company in Danang, last April. They need all the encouragement they can get!
" we have received a huge order to help thousands of poor families in North of Vietnam with our clean cookstoves. We have already employed five new workers and others will be added soon if necessary. For us as Solar Serve it is a big challenge, so again stand with us. Thank you so much!
Greetings,
Solar Serve team
Bismillah
and
Bon Appétit!
Thanks to you, the Kasbah Chronicles is now in its tenth year!