Kitty MOST EXCELLENT ADVENTURE AT ADULT SPACE CAMP in HUNTSVILLE, AL.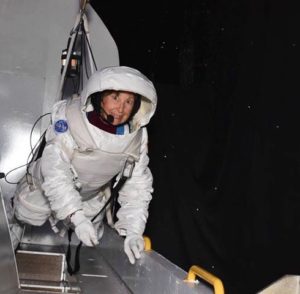 TWO GOLDEN AGERS
(IF THAT's WHAT WE ARE AT THIS STAGE OF OUR LIVES??)
Space Camp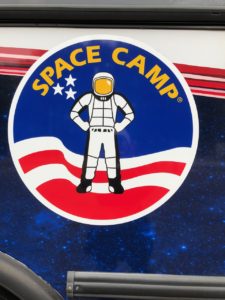 Where to begin? The article explains most of it. This was, for me, the kick of a lifetime. My friend Pat (www.patmcardle.com), a novelist and solar cooking expert , feels the same way. So we attended Space Camp..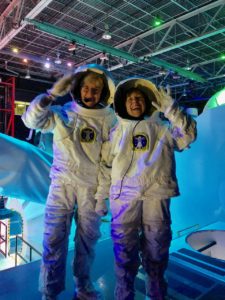 Kevin Joest, a talented young composer, was a member of our TEAM PIONEER at Space Camp. Most members were young techies, space groupies as I were, as I am. Listen to Kevin here:
Our great Team Pioneer (we won the prize for the best team!)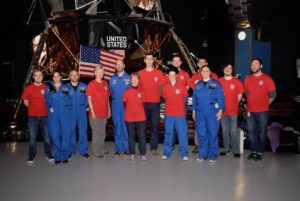 Chef Clementine feeds up to 850 children a DAY in the summer!
Then this: IN SPACE FOR REAL!!
In a historic moment of Elon Musk's SpaceX, the company's Crew Dragon craft successfully docked at the International Space Station on Sunday . . .
The Reagan Library in Simi Valley, CA: Fascinating!Step into Air Force 1 (the old one), a piece of the Berlin Wall, the suit Reagan wore when he was shot, learn how to set a table for a state dinner at the White House(really!!) and much more. A very entertaining and educational 2 hours—
Presentations: Oceanside, CA.
Lunch and chat, thank you so much! Encinitas Literary Ladies:
"Thanks Kitty!
It was great having you join us today for lunch. I know everyone had a wonderful time. I think it was a book club gathering that will be remembered for a long time! I will pass along the Kasbah Chronicles information to the group. We look forward to seeing you again some time in the future. Have a wonderful trip to Morocco (Your book helped us feel like we've been there)."
All the best, Pam
Presentation: SPACE CAMP ADVENTURES!
Kitty and Pat will give a talk on their adventures at Space Camp, July 19th, 2019
for the LIFE group (Learning Is For Everyone) at Mira Coast College in Oceanside (CA) (LIFE link)
Catalina and Avalon: a throwback to quieter times
Kitty in the media: Crown City Magazine,Coronado, CA
and
TIJUANA 40 years ago!
The San Diego Reader is really digging into its archives!
A piece I wrote about 40 years ago when I was on staff at the struggling (no longer so) San Diego Reader!! How things have changed!!
MY GRIPE WITH AMERICAN AIRLINES:
Our flight back from Space Camp took 5 ½ hours from Charlotte NC to San Diego. A little boy, seated behind my friend Pat, coughed and sneezed all the way home, while his mother paid no attention. The inconsiderate woman kept eating her potato chips, ignoring her kid.
I AM ASKING WHY AMERICAN and all other airlines, DO NOT HAND MASKS WHEN THEY IDENTIFY A SICK PASSENGER. That kid infected half the plane (indeed, 2 weeks later, Pat still had a good case of bronchitis.) SHAME ON THE MOTHER.