This is the first chapter of a multi chapter Morocco/Catalonia Adventure in April and May 2019
We are engulfed in June Gloom, the time of year when the ocean is trying to heat up– and morning fog settles on the coast in thick blankets. The plants love it. We do not. Especially after the rainiest winter in decades. One good thing however: you can go skiing in the Sierras until August!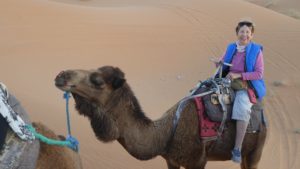 From the Merzouga sand dunes
to this sign
I wish I had thought of this for my logo!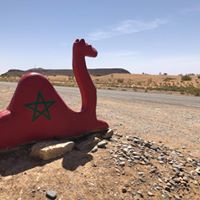 THE KASBAH CHRONICLES
Now in its tenth year
APRIL/MAY 2019 edition
Contents
Morocco on my mind
Return to Dar Zitoun
Reflections on Marrakech, Merzouga, and Fez
Presentations and Upcoming events
MY AIRPORT RANKINGS
Mint Tea and Minarets REVIEW pretty please!
Links of interest en français et en anglais
Kitty is selling: Vintage Moroccan artifacts and more. . .
Peculiar links of interest (possibly!)
In the next issue: stay tuned for updates on
Ouarzazate, Essaouira, Casablanca and Catalonia
Musings:
From Space Camp in Huntsville (AL) in February to Morocco's pre-Sahara dunes in April: a giant leap for this woman!
As you know, my friend Susan McBeth, founder of Novel Network (www.novelnetwork.com) and Adventures by the Book (https://www.adventuresbythebook.com), asked me to co-lead a tour of 22 passengers to Morocco last April. I agreed to come out of retirement one last time.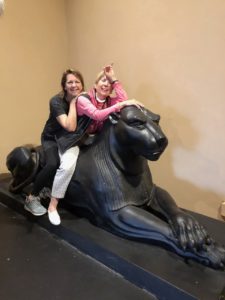 Ouarzazate: Catching our breath
Has Morocco changed? Let me count the ways. Heard recently on Moroccan television: "We are hoping for 500,000 (read that: five hundred thousand Chinese tourists in 2020.) Gulp. And Chauen/Xauen (aka Chefchauen) the charming little Rif mountain town where I learned to swim as an 8-year old…is now home to 3 Chinese restaurants. Marrakech and Chauen have become two of the hippest destinations apparently.
Gridlock is the word of the day in Marrakech. Some sites are so crowded one can barely move. Such is the state of affairs at the Yves St Laurent Gardens (a.k.a. Les Jardins Majorelle). At times, the High Atlas Mountains, once an iconic snow-capped backdrop to the Pink City, often disappear behind a cloud of man made haze.
Backstory: My father was a friend of Majorelle's, one of Morocco's foremost Orientalist painters, and my brother and I spent many hours playing in his gorgeous botanical gardens as children. The jungle-like botanical specimens have blossomed, and so have the crowds. Thanks to Yves St Laurent's imprimatur, 300 people at least stood in line to get in on a morning in April. A small memorial to Yves and his partner, Pierre Bergé, occupy a corner of the jardins. You may need to elbow your way around the Yves St Laurent boutique and bookstore. No oil paintings by Majorelle on view, however. They remain in private collections (my father was fortunate to acquire two of them).
Starting in 1957, my father provided the buses to transport workers from the American air base at Ben Guerir (a hush hush B-52 airbase) back to town. For Xmas, my brother and I acted as "hosts" for the children of service members he invited to the Majorelle Gardens where, ever the impresario, he hired acrobats, snake charmers and gnaoua musicians from the Place Djemaa el Fna (today a World Heritage Site) to perform along the garden paths. Unforgettable!
Today, Djema el Fna 2.0 gives off a Disneyland vibe, and still boasts snake charmers and henna artists, and hundreds of tourists dine at food stalls (inspected for cleanliness each day, I am told).) One big plus regarding this sanitizing, is that most harassment has ceased and performers tend to be polite, save for one pastry seller, who, noticing I had taken his picture without his permission (MY MISTAKE), walked over to me, requested my cell phone, and then personally erased the picture from my Iphotos file. How is that for a warm welcome? NO MONEY, NO PHOTO.
Marrakech restaurants open and close in the blink of an eye. Thank goodness there are still a handful of classics like Restaurant Al Fassia Aguedal (https://alfassia.com/our-restaurant) on route de l'Ourika), open for over 25 years, and still run BY WOMEN (a first when it opened). One of the original cooks, or dada (queen of the kitchen), still runs the show at this location. This is authentic Moroccan comfort food at its best. Reservations recommended.
GUIDE: I would be remiss in NOT mentioning our excellent Marrakech-based national guide, Mustapha Lamzougui. Only once or twice during the course of my 24 annual tours have I leaned on such an attentive guide. Our bus crew from Nice Week Tours was also one of the best: Omar Chawqui, of www.NiceWeekTours.com (!!) once drove President François Hollande around.
The Fez medina has gone through a similar clean-up campaign as Marrakech, with newly-cobbled streets, restored historic sites, and "colorful" touches strategically placed for the benefit of selfies. Even the famed wool dyers in their 11th century surroundings have been "upgraded". You need to climb a tortuous staircase to the second floor, through rooms filled with leather goods, before getting an overview of the dyers and the vats. Just hold that sprig of mint to your nostrils.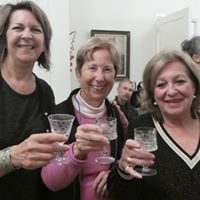 Trois mousquetaires: Susan, Kitty, Danielle sipping mahia
à la vôtre!
In Fez, a special event for us was having tea (and the Moroccan aperitif called mahia, made from figs or dates) at my friend Danielle Mamane's, co-author for The Scent of Orange Blossoms: Sephardic Cuisine from Morocco. Danielle and I conducted cooking classes together at her home on previous tours. This year, she graciously invited us for a Passover tea, or, as it is called in Fez, a "visita." It was raining—so 24 strangers crowded around her family's dining table laden with platter upon platter of Passover pastries (pictures attached.) Danielle knows pastries! Many of her recipes are included in our book (out of print, but still available on https://www.amazon.com/Scent-Orange-Blossoms-Sephardic-Cuisine.) We got together the day before, and she taught me new tricks for assembling her cheese-filled Moroccan briouats. Merci Danielle!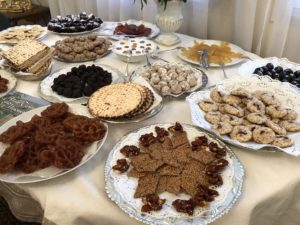 Danielle's pastries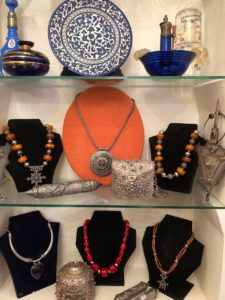 The hotel is undergoing renovation and, when she was asked to close her boutique five years ago, she brought home her treasure trove of antique Berber jewelry. Anyone interested let me know, and I will put you in touch with Danielle directly. These are a few items from her collection.
For our welcome lunch near Fez, I chose Château Roslane, a newly-opened boutique hotel and resort. I first took a group to the formerly named Côteaux de l'Atlas Winery (part of Morocco's award-winning Celliers de Meknès) about 15 years ago, when the winery was in its infancy. It is now an elegant spa/restaurant featuring updated Moroccan cuisine (https://www.roslaneboutiquehotel.com/) and award-winning wines (Morocco IS a wine-producing country after all) and first class service. Reservations a must.
Chef and maitre d'h at Chateau Roslane: merci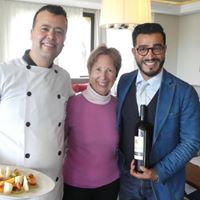 A walk around the Roman ruins of Volubilis, one of my favorite sites in Morocco followed lunch—a cold and rainy visit it was-but still special. Here too, the venue has been upgraded with an indoor museum featuring relics from the site, and the addition of knowledgeable, multi-lingual guides.
Backstory: In my youth, the ancient amphitheatre served as a backdrop for French troupes performing Greek plays. It was thrilling to see the ruins (used in the movie Patton") come alive under the floodlights of "son et lumière".
Our itinerary took us over the Middle Atlas Mountains, through the alpine village of Ifrane (home to an American university) and a drive through the cedar forest. A fun stop (created for tourists) was feeding the Barbary apes gathered along the road. These animals have long lived in the wild (see Mint Tea and Minarets) but seemed totally unfazed by humans.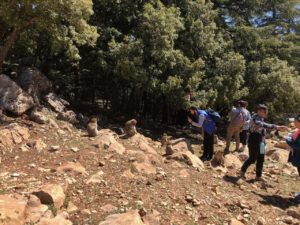 Over the mountains and down the eastern slope we went to reach our desert camp in the Merzouga sand dunes. When I visited Merzouga in the mid-eighties, it was REALLY the desert, with the only inhabitant a vendor selling warm bottles of Coca-Cola, and the immense sand dunes. Today, a small town has sprouted at the foot of the dunes as have dozens of tent "camps" of various levels catering to Chinese, French, German, etc… Our deluxe overnight accommodations at the Merzouga Camp Xaluca consisted of individual Berber tents with sink, toilet, and even shower (though I didn't test the latter). We got there just before sunset, and were greeted by 24 crouching dromedaries, one for each passenger. We climbed aboard the passive beasts with terror mixed with much laughter and off we went to watch the sun set over the dunes. Quite a magical sight. Later, we savored a Moroccan feast of harira soup, a tagine of lamb and prunes (included in Cooking at the Kasbah: Recipes from my Moroccan Kitchen), mechoui (barbecued lamb) and an excellent couscous—all the more delectable when I realized the chef had prepared our multi-course meal over a small gas burner in an adjacent tent.
Photo Kitty Morse
I got to spend several bittersweet nights at Dar Zitoun, our family riad.. feeling the absence of those who preceded me—my late father, Bouchaib #1, and many of the characters I write about in Mint Tea and Minarets. Sidi Makhfi, our entombed holy man under the main staircase made his friendly presence felt. And to ingest a WHOLE platter of home-made couscous (which I shared it with our Bouchaib #2, our new, excellent, caretaker) was the best welcome home.
Friday couscous at Dar Zitoun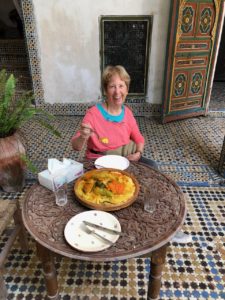 On the subject of Dar Zitoun, would you consider checking the LIKE box on the DAR ZITOUN Facebook page at
https://www.facebook.com/pg/Dar-Zitoun-Riad-571764203267186/photos/?ref=page_internal-and share the site with friends? I am trying desperately to spread word of the sale.
My greatest pleasure in returning to Morocco is always to spend time with friends: My neighbor, Alain Le Gohebel, who runs the lovely l'Oum-Errebia B and B about 50 meters from Dar Zitoun's front door invited me for two nights. What a treat: Alain, his able manager Houcine, and his chef Rahou, did much to help me during my stay. L'Oum Errebia (www.azemmour-hotel.com)
One of Chef Rahou's delectable creations: Stuffed tomatoes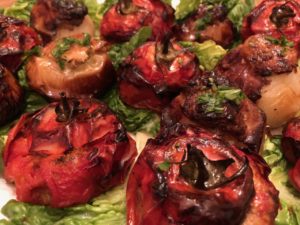 Houcine and Bouchaib:merci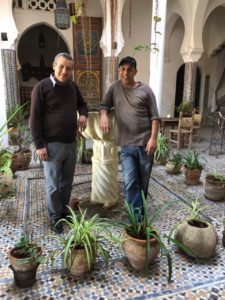 You may have read about Roselyne and Abderrahim Rahoule in Mint Tea and Minarets, where Abder shares his recipe for his FABULOUS tangia stew. I was honored to share in the ftor to break Abder's fast on the first night of Ramadan. Abder remains one of Morocco's foremost contemporary artists and ceramicists, and his public art adorns many a Moroccan city. De même pour mes amis et voisins, Yves et Marie Paule, qui me tiennent au courant de ce qui se passe dans le voisinage de Dar Zitoun
MORE on Morocco's Adventures by the Book Tour BLOG
https://adventuresbythebook.com/moroccan-adventure-by-the-book-blog/
View more tour photos at
https://www.facebook.com/pg/adventuresbythebook/photos/
Nice to be acknowledged:
https://www.thespicehouse.com/ras-el-hanout
When I am asked if you should bring back spices from Morocco, here is my advice: The ONLY spice worth bringing back is saffron, which is cultivated in Southern Morocco, and costs five times less, at least. I order special spices by mail from The Spice House in Evanston (IL.) This is one of the best spice stores in the US with origins in Milwaukee, WI, my American "hometown." They sell my blend of ras-el-hanout. The Spice Way in Encinitas (CA) https://thespicewaysd.com is also a great source.
Presentations:
www.miracosta.edu/instruction/programsforseniors_life. JOIN US!!!
Why attend Adult Space Camp in Huntsville, AL? Space junkies Kitty Morse and Pat McArdle played at being astronauts to mark the 50th anniversary of the moon landing.
Friday, July 19, 2019. 2PM.
LIFE, Mira Costa College, Oceanside, CA. Learning Is For Everyone (LIFE)
www.miracosta.edu/instruction/programsforseniors_life.html
Kitty Morse: Revisiting Morocco's Sahara and the mythical Kasbah Trail.
Friday, AUG 2, 2019. 2PM
Culinary Historians of San Diego:
Kitty revisits Morocco's Kasbah Trail
Saturday, September 21, 2019
https://www.culinaryhistoriansofsandiego.com/
UPCOMING EVENTS at the Escondido Center for the Arts: FRANCOPHONE ou FRANCOPHILE
DEGAS is coming to the Center (www.artcenter.org) where I am a docent
July 20 – September 15, 2019
Works on paper by French artist, Edgar Degas. Exhibition also includes work from Mary Cassatt, Paul Cézanne, Edouard Manet, Camille Pissarro, and Henri de Toulouse-Lautrec.
If francophiles (4 at least) would like a personally conducted tour in French, contact Mikelanne Ferran at [email protected]
TAKE NOTE:
Did you know that Degas lived in New Orleans from 1872 to 1873?
https://france-amerique.com/en/degas-house-in-new-orleans
MY PERSONAL AIRPORT RANKINGS:
Airports to Avoid:
Charles de Gaulle (CDG, Paris) : Une honte ; shame on Charles de Gaulle.
Long, narrow departure halls, lined with insufficient seats, leaving an aisle about 4 feet wide on either side to accommodate thousands of travelers, many on their iPhone. Insane. Most eateries are located below ground (Chez Paul is my favorite). I missed my plane for Barcelona (due to a dire medical emergency on the plane we were to board.) The staff was at a loss to explain the delay for about one hour. 150 passengers waiting with no explanation is not a good thing. One agent graced us with his ill-tempered presence at passport control, keeping about 300 passengers waiting. Five or 6 staff members stood around, chatting, and seemingly oblivious. CUSTOMER SERVICE?? QU'EST CE QUE C'EST QUE CA?? WHY? BECAUSE THEY CAN. . . which leads me to
Barcelona: Unfriendly and under staffed
I missed my connection from Barcelona to Casablanca because of the delay in Paris. YOU DO NOT WANT TO BE STUCK ON YOUR OWN, AT 9PM, in this airport. I found myself alone and found out that most check in counters are RENTED by major airlines and operate under another name. They don't tell you that of course. My flight was operated by Vayama Airlines for Royal Air Maroc. No signage. It took me 45 mns to locate a human being who could direct me to a booth at the far end of the terminal, which took care of the two airlines. Guessing game for you: Vayama and RAM are represented by SWISSPORT. Never heard of them? (Found on the Internet. Swissport International Ltd. is a Chinese-owned aviation services company providing airport ground and cargo handling services. It is owned by Chinese company HNA Group. NO wonder.) Result: I had to look for a hotel at 10PM (a shuttle bus driver used his OWN cell phone to make a reservation for me since no airport staff was visible and I had to purchase another ticket for the next day on Vayama, a low cost airline to Casablanca. Fallait le savoir.
Heathrow: a sad joke
Institutionalized rudeness, as it is in Paris. When I last went through 2 years ago, I was kept waiting along with an ever increasing line, as a good dozen inspectors had their backs turned to us while they discussed their break schedule. WHY? BECAUSE THEY CAN.
Manageable airports:
Casablanca: Aeroport Mohamed V (CMN) https://www.casablanca-airport.com/
From the one room departure hall of my childhood to two vast terminals, Mohamed V airport qualifies as a major portal between Europe and Sub-Saharan Africa. Word to departing travelers: a number of stores sell Moroccan artifacts—in case you missed buying them in a medina.
Tijuana: General Abelardo L. Rodríguez International Airport (TIJ) aeropuertosgap.com.mx
San Diego and Mexico share the airport and I wanted to avoid the long drive to LAX. I decided to try "crossing the bridge" between the two countries. There is ample parking. TJ's airport is built on a human scale. Flights within Mexico or to Latin America tend to be cheaper than flights originating in the US. For my flight to Paris on AIR FRANCE (a partner of Aeromexico) I connected in Mexico City on an Airbus that had seen much better days. The food was good… not the comfort level.
To access TJ's airport, you must first purchase a cross-border pass for $30. (https://www.crossborderxpress.com/en/). Passenger drop-off and check-in takes place a few feet from the check in counter! You then proceed over the bridge to passport control. The return is simple as well: retrieve your luggage, look for the LARGE CBX sign at one end of the hall, proceed through passport control, over the bridge, and through US customs. Back on home soil.
Looks like les français envoient leur vieux avions au Mexique ? Or else they need to upgrade their Airbus fleet. I could hardly extend my business class seat — a far cry from my flight to Vietnam last year when China Southern, an airline unknown to me up to then, featured the individual cocoons and fluffy duvets.
LINKS OF INTEREST:
COUSCOUS à la UNE: BIEN SUR ! Qui en doutait ??
Le_couscous,_arme_de_réconciliation_massive:
https://www.lemonde.fr/m-le-mag/article/2019/02/01/un-couscous-pour-tous_
That's better!
This Alabama book shop has a national audience for its autographed titles. https://www.ozy.com/good-sht/the-bookstore-where-all-your-favorite-titles-are-signed/92772
AMAZON reviews please!
I am shamelessly begging for additional reviews on Amazon for
Mint Tea and Minarets: a banquet of Moroccan memories.
A very short anonymous review on my Amazon book page for Mint Tea and Minarets: a banquet of Moroccan memories is always appreciated. I am trying to qualify for a free book blast for the Kindle version!
https://www.amazon.com/dp/B07MFVTJH8/ref=sr_1_2_twi_kin_1?s=books&ie=UTF8&qid=1547051483&sr=1-2&keywords=mint+tea+and+minarets
I AM SELLING a variety of vintage Moroccan artifacts: Many were part of my father's estate: they include books on Moroccan handcrafts; rugs; antique brass fixtures; Victorian beveled glass lamp with pull chain; two large brass door knockers patterned after the ones at the Royal Palace in Fez (I had them made specially but cannot use them); linens, and more! Just ask.

More next month! I love comments!