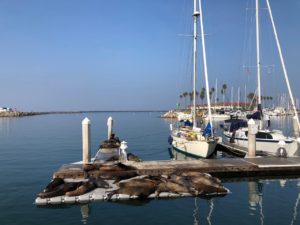 These seals at Oceanside Harbor have the right idea: Wake me up when COVID is over…
MUSINGS
The Kasbah Chronicles
Les Chroniques de la Kasbah
In English and en français
Musings
Notes on my next cookbook
A new twist on a Moroccan classic
Links of interest
News of Morocco and beyond
Improve your spoken French!
Moroccan items for sale
Musings:
In this, the ninth month of the COVID pandemic, I am at a loss for words. I cannot complain, since our Vista Kasbah is the best place for me to be sequestered—but boy, am I getting itchy feet. Yet, the idea of getting on an airplane still does not appeal to me.
Actually, the pandemic has served an exciting purpose: I have been hard at work on my next book, Bitter Sweet: legacy from my Alsatian ancestors (working title). Beautiful food photography included too!
I received an email blast from the High Atlas Foundation, a most worthy NGO in Morocco :
https://mailchi.mp/highatlasfoundation/article-reviving-a-monastery-for-community-development?e=4GUbJ49kBE. Unpublished article on Tioumliline by Lamia Radi, Rabat, Morocco.
Toumliline remains a magical name in my mind. Toum as we all called it, was a refuge for Catholic nuns in the Middle Atlas Mountains. It was a popular destination and Catholic retreat for many of my Catholic friends, especially at Easter:
"On part a Toum…." they would announce… each year.
Those among you who accompanied me to Morocco will remember the longest day of the trip as we crossed the Atlas Mountains from Fez to the oasis of Tinehrir. Half way up, Tioum hides among the forest of cedar trees not far from the snow slopes of the Mishliffen. Macaques on the way to Toum…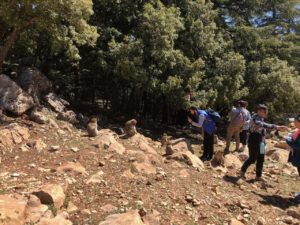 The very first avocado from our very own tree..
Let's head to the kitchen
new twist on egg tagine with lox
Morocco meets Brooklyn
(variations in Cooking at the Kasbah, The Vegetarian Table: North Africa and Mint Tea and Minarets.)
do you get the idea I love this egg dish?!!
Egg Tagine with Olives and lox
Serves 4
Make the tomato chermoula sauce ahead of time:
2 tablespoons olive oil
2 medium onions, very finely diced
1 (14¼-ounce) can diced tomatoes, drained
½ teaspoon sugar (optional)
10 green or purple olives, rinsed, pitted, and coarsely chopped
2 garlic cloves, minced
1 bay leaf
¼ cup minced cilantro
In a tagine or medium skillet, heat olive oil over medium heat. Cook onions, stirring occasionally, until golden, 8 to 10 minutes. Add tomatoes, sugar, olives, garlic, and bay leaf. Mash lightly with a fork. Reduce heat to low and simmer until tomatoes thicken somewhat, 15 to 20 minutes. Discard bay leaf. Add cilantro.
Adapted from Mint Tea and Minarets: a banquet of Moroccan memories.
For ONE person:
One egg, beaten
1 or 2 slices of lox, diced
Pour the egg in a small oiled skillet. Swirl around as for an omelet. Salt and pepper to taste. Top with 2 tablespoons of the chermoula, and diced salmon.
Copyright Kitty Morse 2020
More: The French are crazy about "crumbles" savory or sweet. Who knew that "crumbles" (and biscuits d'Halloween) would make such an impact?
Crumble de courgettes au Parmesan
Serves 4
4 T olive oil
4 medium zucchini, peeled and sliced very thin
4 T flour
2 T bread crumbs (or almond meal)
1 cup grated parmesan
Ground pepper to taste
4 T butter, softened
4 slices of ham or prosciutto (optional), cut into ribbons
Preheat oven to 400 degrees F.
Bring the oil to medium heat in a pan or skillet. Saute the zucchini slices until soft. Drain and set aside.
For the crumble, combine the flour, bread crumbs, parmesan, and salt. Add the softened butter and mix with your fingertips. Alternate layers of zucchini, and ham (if using) in a medium baking dish. Top with the crumble mixture and bake for 20 to 25 minutes.
How to find substitutes for French ingredients:
Did you know? Grapefruit Is One of the Weirdest Fruits on the Planet
From its name, to its hazy origins, to its drug interactions, there's a lot going on beneath that thick rind.
https://www.atlasobscura.com/articles/grapefruit-
My friend Stephenie Coug
hlin, owner of Seabreeze Farm in Del Mar (CA) a mere 2 or 3 miles from the ocean, grows and delivers her own GORGEOUS produce. Heck her out!
https://csa.farmigo.com/store/seabreezed
News of Morocco, France, and beyond:
Casablanca is undergoing a renewal, and hopefully a getting a good coat of paint. We lived on Avenue Hassan II, across from the park, one the city's main arteries. This is what our building looked like in the earl 1920s…a beautiful Moorish art deco structure. it needs a new coat of paint in this century. Local casablancais have finally realized what an architectural treasure they have in downtown Casablanca..
https://aujourdhui.ma/culture/un-programme-de-mise-a-niveau-du-centre-ville-historique-de-casablanca-voit-le-jourIl+s'articule+autour+de+quatre+projets+Dans+le+cadre+du+plan+de+sauvegarde+et+de+valorisation+du+patrimoine+de+Casablanca,+la+Société+de+développement+local+Cas :
MOROCCAN ITEMS FOR SALE:
PLEASE VIEW DEDICATED PAGE ON THIS WEBSITE
Bellows, camel leather, copper and wood. ABout 48 years old.. Works fine.
All these will appear on my dedicated page.
These lithographs were produced by he same printer who printed my first book, Come with me to the Kasbah. Printer and publishing house are long gone
I am asking USD70 a piece. Shipped in a tube. About 23.5 by 15. 5 inches.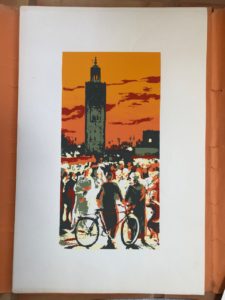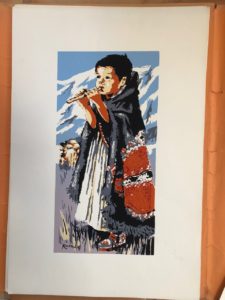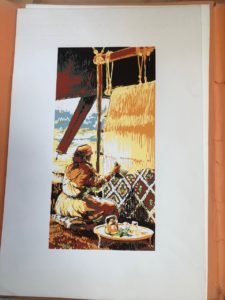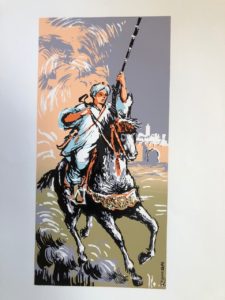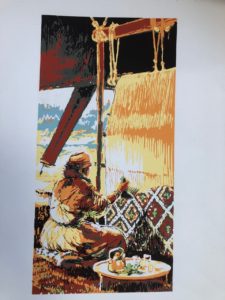 ,