The Kasbah Chronicles
APRIL 2022

On the trail to aptly-named Inspiration Wash
Borrego Springs, Southern California's desert
Musings
Links of interest en français and in English
COME AND SAY HI!
Couscous de la Mimouna demonstration
Sunday, APRIL 24, 2-4PM
La Jolla (CA) JCC
Museums are open too!
California Center for the Arts
La Jolla Museum of Contemporary Art
The Getty (LA)
Academy of Motion Pictures (LA)
A Shout out to Fellow Authors
Kitty is always culling from my private collection of cookbooks
BITTER SWEET: a wartime journal and heirloom recipes from occupied France is at the designer's.
I will soon flash around the cover for all to view! Stay tuned!
Musings:
Easter and Passover have come and gone, and Ramadan is in full swing. April is indeed a busy month.
There is light at the end of the tunnel, albeit an intermittent one. Travelers are flocking to airports in droves, planes are full, and concert venues back to pre-pandemic pandemonium. I am suffering from whiplash with on-again, off-again COVID restrictions. Good news? Maybe! But wait! The pandemic is not over yet. Don't throw your stash of masks away. You may need them again. After learning that three of my relatives in Europe recently caught COVID even though they were vaccinated and boosted, I am waiting for the Fall to cross the Atlantic.
I drew the curtains this morning onto another lovely day in San Diego County. Sunshine and blue skies are such a jarring disconnect with the news of the world. My young persimmon tree greeted me like a friend offering me a bouquet—in this case, a burst of shiny green leaves. And each morning, I pick passion fruit. My Easter egg hunt consisted of finding a purple, egg-shaped fruit, amidst the accumulated dead leaves.
RECIPE:
How to dry one of my favorite herbs:
TARRAGON (Estragon)
NON! NON! https://tastecooking.com/a-requiem-for-tarragon IMPOSSIBLE!!
"It's the storied herb championed by Thomas Jefferson, Julia Child, and The Silver Palate."
It also happens to be one of my favorite herbs (along with cilantro) and a French herb par excellence. Have you tried a pinch of dried and crushed tarragon leaves in scrambled eggs? Since our dry micro climate is not well-suited to this fragrant herb, I have to purchase jars of dried tarragon that has long lost its fragrance and flavor. Until I learned of a way to dry my herbs in the microwave. Much to my surprise, the dried herb retains all its flavor.
How to dry your own tarragon (or other herbs):
1.Strip the leaves from the stems. Discard the stems
2.Lay the leaves flat in between two paper towels.
3.Microwave for 50 seconds on high. Pat the leaves dry (they will give off moisture).
4.Place the leaves in between two new dry paper towels and repeat the process. Two drying sessions should be enough. If not, repeat the process for 40 or 50 seconds. At this point, the leaves should be as dry as paper, yet still fragrant. I simply crush them in between my fingers and store them in a spice jar. Voila!
Now add some to your French-style scrambled eggs. You will not regret it!
La Mimouna cooking demonstration:
Mimouna: a Post-Passover Moroccan Celebration
Kitty will team up with Debbie Kornberg of You Tube channel's Spice It up with DEB! and owner of Spice and Leaf spice company, for La Mimouna celebration at the Jewish Community Center (JCC) in La Jolla CA.
https://www.lfjcc.org/cjc/mimouna.aspx
Celebrating Jewish Moroccan Food, Culture and Traditions
Sunday, April 24 2022
from 1-4PM
$18
JCC Members: $15
Children 12 and under: Free
" A trademark of Mimouna, the evening begins with people traveling from home to home visiting with family and friends in what is affectionately named in Morocco "The Tour". During these visits, groups of people -some of whom are familiar to one another and some of whom strangers- eat, drink, and celebrate into the wee hours of the night. The next day is filled with incredible hospitality. . ."
Stop by and Sample this special couscous dish flavored with orange blossom water and topped with toasted almonds from my book The Scent of Orange Blossoms: Sephardic Cuisine from Morocco (co-authored with Danielle Mamane).
Overheard: Chuckle:
I love to eavesdrop on fellow walkers:
"What! You have a restraining order against him? You want me to hire him for my restaurant?" overheard in Oceanside Harbor, March 5, 2022
A staycation of sorts:
San Diego's back country never ceases to amaze:
8:30AM: Swim in the pacific;
9:30AM: Drive through farm country and vineyards
10:15AM: Drive through the mountains
11:15 AM: Slide down onto the hot, dry expanse of Borrego Springs, San Diego's pre-Sahara Plain?
What other county in the US can boast such diversity? (But we do have a water shortage.)
This is why I love the Moroccan desert: for its caravans of dromedaries.This one took me around the dunes of Merzouga, Morocco.
Museums are open too!
Have you seen the NEW MINGEI in Balboa Park? Do it soon!
California Center for the Arts
https://artcenter.org/museum
Campus Creatives featuring San Diego's Fine Arts faculty. Until May 26, 2022. At The California Center for the Arts (where I will resume being a docent, post COVID). The museum NEEDS DOCENTS and USHERS for the THEATRE.
I found this to be a most moving piece:
La Jolla Museum of Contemporary Art
https://mcasd.orghttps://artcenter.org/museum/
Niki Niki everywhere Niki de St Phalle, and I find it ASTOUNDING that so many art lovers along the coast who are fans of Niki's work, do not head to ESCONDIDO to view one of her MASTERWORKS: Queen Califia's Magic Circle.
Call the Escondido Center for the Arts to make an appointment to visit this amazing piece of public art. NOW!
https://www.escondido.org/queen-califias-magical-circle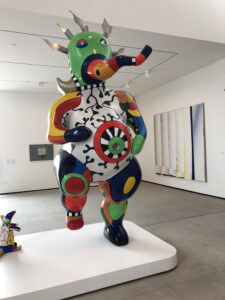 Academy of Motion Pictures (LA)
https://www.academymuseum.org/en/
A newly opened destination in LA, next door to the LACMA. From The Wizard of Oz's red slippers to E.T. on the cusp of calling home.
This will become a must, like LACMA–
Lots of digging going on smack in the heart of LA to uncover ancient beasts.

https://www.getty.edu
And look who greeted me! My FAVORITE SCULPTOR: Alberto Giacometti
Local discoveries to satisfy your hunger pangs:
Every Table is located next to the FEDEX/KINKO store on Hacienda Drive in Vista, a stone's throw from the law courts.This new addition to the grab and go food business in Vista is an unusual one, the first to open in our neck of the woods. Every Table is a result of a Shark's investment (I am a SUPER FAN of Shark Tank!)
Prepared food (and tasty one at that) packed and set out on shelves for you to grab and go. Or, to eat in. The meals are prepared daily in a central kitchen, and what remains after business hours is distributed among local charities "That way, we always have fresh food on that day," explained the young and enthusiastic hostess. I sampled a very good coconut curry, a veggie wrap, and a salad that was fresh and crisp.
From their website: " At Everytable, we believe nutritious food is a human right. Every aspect of our business was designed to make fresh, delicious food available to everyone, every table. Our central Los Angeles kitchen allows us to chef-prepare meals efficiently and price them according to what each community can afford. Then we'll bring the ready-to-eat meals to you — at home, work, school, or on the go."
A vegan restaurant in Vista, CA:
https://www.saboravidacafeanddeli.com
What a find! An intimate as yet almost "undiscovered" VEGAN deli tucked away in a strip mall across from the Kaiser Permanente medical Building on 735 Sycamore Avenue in Vista. Owner/chef Veronica Cabrera's dream Sabor a Vida (Taste of Life) deli is the new "in" vegan space to sample her signature vegan avocado toast: two generous slices of multigrain bread thickly slathered in mashed avocado, fresh corn, and beans, and tierra, a spinach, chickpea tuna, tomato, and toasted almond creation, that had my husband yearning for more.
Veronica and her husband Mario turned vegan about 8 years ago. Since then, Veronica has created an extensive vegan menu of sandwiches, wraps, vida and sabor bowls, burritos of hash browns and just eggs, and vegan pastries, among other mouth-watering items. Teas, lattes, fruit smoothies and other delights await. Their daughter Natalie, is a charming hostess adept at explaining anything vegan on the menu.
New opening hours for Sand and Straw family farm in Vista CA:
http://www.sandnstraw.com
New Farm Stand Hours:
Tuesdays & Fridays 1pm-5pm. Community Farm Stand days will be Tuesday and Friday afternoons, in order to provide more space for Saturday events on The Farm. Right now, we've got oranges, blood oranges, grapefruit, tangelos, tangerines, lemons and limes, in addition to produce. We've started planting tomatoes, cucumbers, zucchini and the Spring and Summer crops.
The Golden Door Country Store, 314 Deer Springs Road in San Marcos (CA) carries fruits and vegetables from the Golden Door's fabled vegetable gardens and orchards, as well as Golden Door beauty and wellness product. Watch this space for a cooking class with yours truly this summer!
https://goldendoor.com/a-way-of-life/country-store/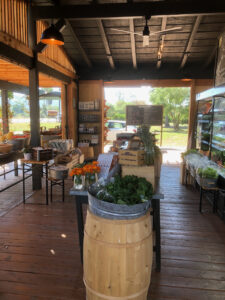 https://france-amerique.com/avenir-du-francais-passe-par-sa-creolisation/?
View the English translation on the same site.
What is La Francophonie? Who are "francophone" authors? Those who are preserving the French language in the US and elsewhere in French-speaking countries around the world. There may be more French-speakers and writers around the world than in la Métropole! They are the ones saving the French language.
"A lire vos programmes, on constate une montée en puissance des auteurs dits francophones, non issus de France métropolitaine. La vitalité de la littérature française passerait elle désormais par l'Afrique, les Antilles et le Canada ? Ce terme de francophonie vous paraît-il adéquat ?
Par un renversement de l'histoire, ce sont les auteurs dits francophones et les langues créoles qui vont peut-être sauver le français aux Etats-Unis ! Le mot « francophonie » reste ambigu car il distingue les locuteurs du français de métropole de tous les autres, qu'ils soient d'Haïti, du Québec, du Viêt Nam, de Roumanie ou du Sénégal..."
Need a hard copy of A Biblical Feast (now out of print!)
Contact: Not of This World Icons
www.notofthisworldiconsandbooks.com and
https://notofthisworldiconsandbooks.com/search?q=A+Biblical+feast
A handful of copies of A Biblical Feast available from this surprising bookstore store in Santa Rosa, CA which specializes in icons and books.
"Our Orthodox Christian website offers over 2000 different books, icons, crosses, icon eggs, lacquer boxes and other items from various parts of the Orthodox world. Open hours are: (Monday – Saturday, 11 am to 4 pm). We are located at 553 Mendocino Ave, Santa Rosa, California, 95401. We do not ship outside of the United States."
New books from my colleagues and friends:
http://kathidiamant.com/ author of the critically acclaimed Kafka's Last Love: The Mystery of Dora Diamant
and now her new book: The Heart of the Zoo
https://shopzoo.com/products/heart-of-the-zoo-how-san-diego-zoo-director-chuck-bieler-earned-his-stripes
"This book tells the extraordinary story of how Chuck Bieler "earned his stripes" at San Diego Zoo Wildlife Alliance. With inside stories and humorous details, it captures his tireless efforts to help create an international conservation organization where all wildlife thrives."
Dressing Modern Like Our Mothers: Dress, Identity, and Cultural Praxis in Oromia (Ethiopia)
https://www.amazon.com/Dressing-Modern-Like-Our-Mothers/dp/1569027803
Author Peri M. Klem (Ph.D. Art History, Emory University) is professor of Art History at California State University, Northridge, UCLA Consortium Editor of African Arts Journal and Past President, Arts Council of the African Studies Association.
Culinary expert and travel host George Geary, a longtime colleague, has come out with a new book:A fun way to learn about California's fabled food joints
https://www.georgegeary.com/blog
Kitty is parting with:
The Vegetarian Table: North Africa by Kitty Morse.
New, hard cover. $25.00 (signed to you, and plus $5 shipping in US only)
Rezepte aus der Kasbah:
New. Hard cover. German edition: $30.00
(signed to you, plus $5 shipping in US only)
Fuddalat al Khiwan, Les délices de la Table et le meilleur des mets ecrit entre 1238 et 1266 par Ibn Razin el Tujibi (Arab scholar) French Reprint of an ancient Arabic cookbook. Purchased in Casablanca.
Brand new: USD40.00 plus $5 shipping in the US only.
For designers, book collectors, ceramicist, artists, or architects: rare books in English from my father's estate,
They two books weigh close to 14 pounds. PLEASE CONTACT ME FOR MORE DETAILS:
USD1200 for the pair plus shipping.
· Traditional Islamic Craft in Moroccan Architecture. Two volumes Hardcover – 1980 by Andre Paccard
· Publisher: Editions Atelier 74 1980 (1980)
· ASIN: B00S9ZF81Y
· TWO volume set. Tome 1 and 2. Excellent condition. Some jacket and shelf wear.
· English edition with appendices.
The most complete documentation on Moroccan arts, calligraphy and decoration. Hundreds of color illustrations. These are extremely rare and unusual books by one of Morocco's most famous architects. Each volume contains templates for traditional tiles and Moroccan handicrafts in stone, wood, metal, water and light. These are slightly used but in excellent condition. All tile templates are in pristine condition.
Weight: close to fourteen pounds for both volumes.
Shipped media mail in the US. International buyers pls contact me for shipping rate.
From GoodReads:
"Deux volumes fort in-4 pleine toile de l'éditeur sous jaquettes illustrées en couleurs, 516 + 508 pages, plus de 12000 illustrations en couleurs. Bibliographie, glossaire.
Ouvrage fondamental offrant la documentation la plus complète jamais réunie sur l'art décoratif marocain.
I. Introduction, habitations, lieux de prières, les tracés régulateurs, la calligraphie, la terre.
II. La pierre, le gebs, le bois, le métal, l'eau et la lumière, appendices.
Onwards!
Bon Appetit and Bismillah!