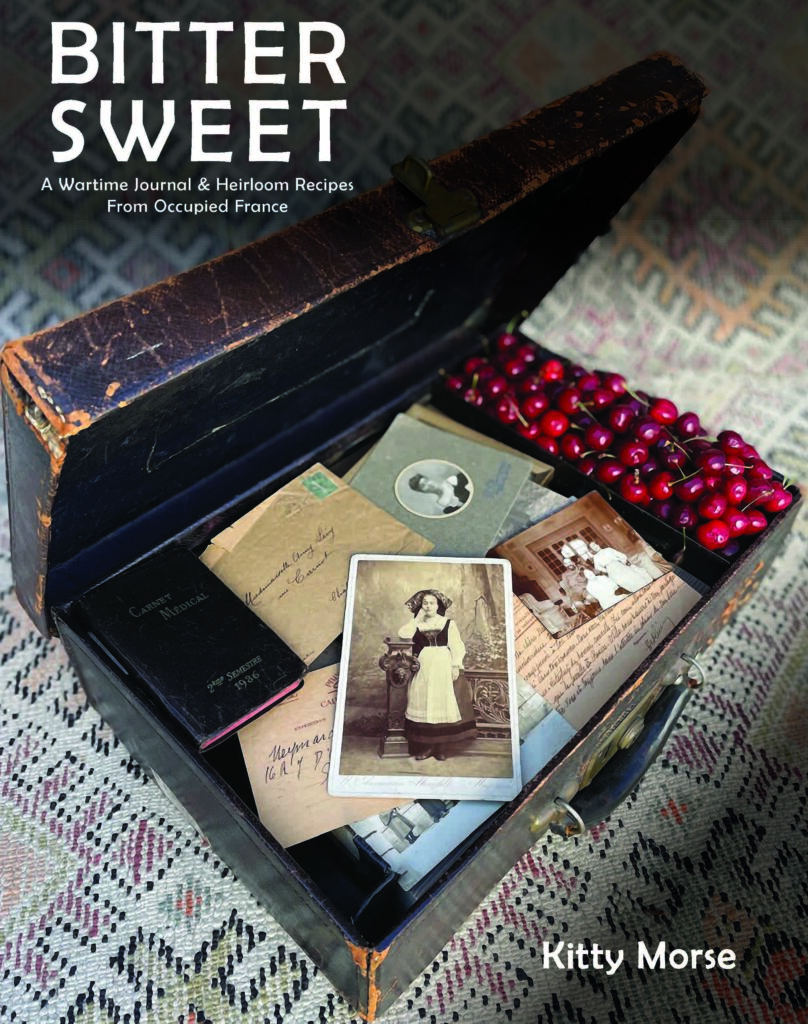 Kirkus Reviews just published this review of Bitter Sweet, September15, 2023
https://www.kirkusreviews.com/book-reviews/kitty-morse/bitter-sweet-a-wartime-journal-and-heirloom-recipes-from-occupied-france/
BITTER SWEET
A WARTIME JOURNAL AND HEIRLOOM RECIPES FROM OCCUPIED FRANCE
by Kitty Morse ; photographed by Owen Morse‧ RELEASE DATE: February 15, 2023
Cooking instructor and cookbook author Kitty Morse tells of discovering her great-grandparents' memories and recipes in this history-filled cookbook.
The author was born in Casablanca, Morocco, shortly after World War II to a British aviation officer and a French administrative assistant. She knew that her maternal grandfather—her warm, gregarious pépé, Armand Darmon—came from an Algerian Sephardic family, but she knew little of her reserved, French-born mémé, Suzanne. It wasn't until decades later, while cleaning out her deceased mother's Oceanside, California, home, that the author came across a suitcase bearing a trove of documents bearing the mysterious title Les Archives Complètes des Familles Lévy-Neymarck. These documents told the story of her mémé's parents—a secular Jewish doctor and his wife living in Châlons-sur-Marne at the time of the Nazi occupation. They include Dr. Prosper Lévy's wartime diary and his wife Blanche Neymarck's book of recipes. It was a bittersweet discovery, indeed: sweet because the author has written several cookbooks, and bitter because neither of her great-grandparents survived the occupation. With this archive, she effectively opens a window onto life in France before and during the war, elegantly tracing the familiar connections between love, grief, and food. It's a project that was begun by her mother, Nicole,who transcribed some of the documents without ever mentioning their existence to the author: "I'd never understood what lay behind the intermittent bouts of depression that plagued my mother throughout her life," Morse writes. "How I wished she'd shared Les Archives…with me, as difficult as that might have been." Prosper's diary covers the first year of the occupation, after which poor health prevented him from writing further; Blanche's recipes are a mix of French and Alsatian dishes, from hearty stews and casseroles to wine-heavy preparations of duck, chicken, and fish. The desserts and baked goods section is the most extensive and alluring part of the book—featuring "Beignets de Carnaval" and "Alsatian Brioche"—but the entire work is richly illustrated with the author's husband Owen Morse's full-color photographs.
A moving book that highlights a long-gone world.
Pub Date: February 2023
ISBN: 9780578361642
Page Count: 210
Publisher: La Caravane Publishing
Review Posted Online: today
Review Program: Kirkus Indie
Categories:
BIOGRAPHY & MEMOIR | GENERAL BIOGRAPHY & MEMOIR | GENERAL NONFICTION | FOOD & DRINK
Awards & Accolades
Our Verdict
GET IT